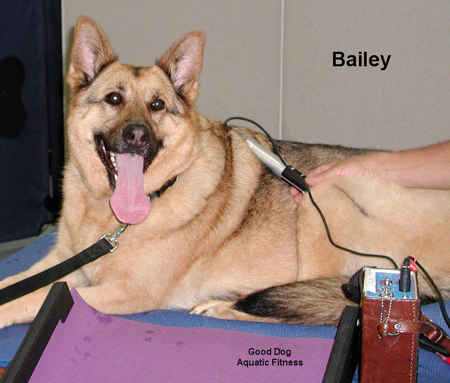 We incorporate cold laser therapy in our treatment plan for a variety of conditions for its ability to help eliminate pain and swelling and increase function:
Hip Dysplasia
Muscle Strains
Soft Tissue Injuries
Arthritis
Elbow & Knee Injuries
Post-Surgical Recovery
Wound Healing
Laser light penetrates deep into the skin/tissue layers and stimulates cellular energy and metabolic processes which help promote healing and tissue regeneration. It also helps stimulate the release of natural, pain killing chemicals within the body to facilitate long lasting pain relief. Because the frequency is adjustable, we are able to treat various conditions. We customize each treatment to the dog's individual needs.

We use a Respond Systems 2400XL Laser system which uses only true LASER diodes, not L.E.D.'s (Light Emitting Diodes). It generates a non-visible beam of coherent light in the near infrared portion of the spectrum. The infrared light is emitted with a high power 500mW Diode @ 904nM (nanometers) wavelength. This system does not heat the tissue, nor cause any pain or discomfort, yet provides enough energy to permit a rapid treatment penetration beneath the skin. This particular unit is categorized as a class IIIb by the U.S. FDA – a non-significant risk device.