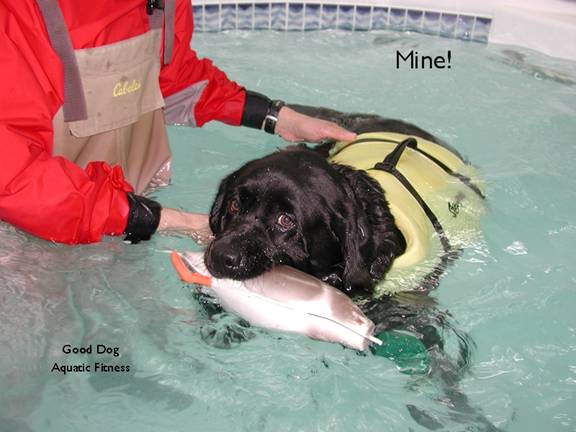 Sully



Dear Luis and Mary,

Sully here and I just want to say Thank you! Thank you! Thank you! Once again to Good Dog Aquatics and Fitness! You guys are awesome! You have done so much for me and I really appreciate it.

OK, I must admit it, when Pam & Art told me I was going for physical therapy and swimming after my first TPLO surgery I was nervous. (So were they!) I really didnít know what to expect. I had already been through a lot with the surgery and I didnít want anyone else playing with my sore knee! When I walked through the door of your waiting room and looked around at your facility, I was very surprised. It was so clean, big, bright, welcoming and well a perfect doggie gym! I saw fun looking obstacles, a workout area, and a pool Wow! Iím thinking, Hey, this may be fun after all! Then I met you. You smiled at me, called me by name, and took some time to really get to know me. You were so kind from the very beginning. You did everything to make me feel welcome and comfortable. In fact, you treated me with such kindness that it made me feel like I was one of your own dogs!

Luis, when it came time for you to evaluate me and touch my repaired leg I got a little nervous again. But, the feeling quickly subsided when I realized how gentle and caring you are. I immediately knew your purpose was to help get me back to my pre-injury self. Each time you worked my leg you were very careful not to hurt me. Thanks for that.

Mary, I enjoyed our work in the gym. I learned, through your guidance, that I really could pick up that bad leg as I walked through and around the obstacles. It didnít seem like work at all.

As for the pool, what FUN! Luis, even though I splashed in the beginning and got you quite wet, (sorry about that!) you never left my side. Your support built my confidence and I knew I could depend on you to be there if I needed you. You taught me the right way to swim so I could build my muscles back up and increase my range of motion. Although I thought I might be able to manipulate you with my smile, youíre definitely not a push over. You made me work very hard but the encouragement you gave me along with Maryís cheering on the sideline, helped keep me going even when I got really tired. In the end I did even more than I ever thought I could. I was very honored when I become a member of your swim team!

We were all very disappointed to find out I needed to have the TPLO surgery done on my other knee but I knew from my earlier experience that once my sessions started again with you, Iíd be back to normal in no time.

Now, I feel SO much better! Thanks to you, my recovery has been much quicker and you have made a difference in my life. Iím going to miss our sessions. Your professionalism, knowledge, kindness and compassion have been important to me and my recovery and I thank you from the bottom of my heart. Iíll never forget you. I love you guys! You are the best!

Your friend always,

Sully Nichols

P. S. I highly recommend Good Dog!