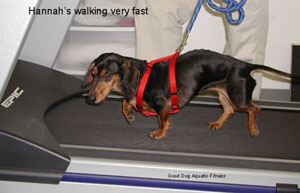 Hannah



Dear Mary and Luis,

Thank you so much for helping Hannah, our four year old dachshund, get back to living and playing like she should! It was early in the morning, two days after Christmas, when we discovered her paralyzed in her crate. It was a gut-wrenching sight watching her trying to pull herself around with only her two front legs. She was happy and wagging her tail. It was obvious that she did not understand how hurt she was.

Hannah ended up having back surgery that day to remove disk tissue from her spinal column. After surgery she was still paralyzed. Her doctor recommended Good Dog Aquatic, and said swimming would help her a great deal.

We were so impressed at the level of sophistication shown at your facility. Hannah enjoyed swimming with Luis and getting her picture taken by Mary. After just a few visits, Hannah showed significant improvement and began to walk again! Now she is running and playing just like always, and it is thanks to you. I would highly recommend Good Dog Aquatic.

Thanks again,

Nancy G.