Good Dog Aquatic
Success Stories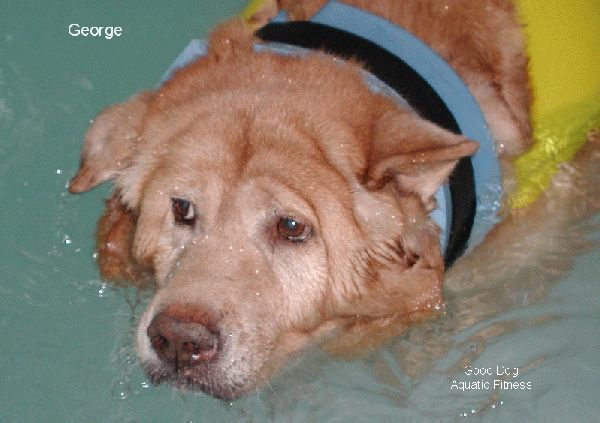 George



George is an 11 year old Chow/ Lab mix with Cushing's disease, hip dysplasia, and a seizure disorder. He was having difficulty walking and going up stairs. Since he has been coming for aquatic therapy, he is now having fewer problems and seizures and going for longer walks. George's owner is very happy with his progress.
"Georgie is just getting prepared for the Doggie Swimming Olympics that's why he's so focused!

Seriously, the aqua therapy has made such a huge improvement in the quality of life for George. At the beginning of the year we didn't think he would be around for the summer. We've seen such an improvement in his ability to get around and still get up the stairs.

The swimming therapy is best thing that ever happened to him and it is something I would recommend to anyone who has a dog with arthritis or hip dysplasia. George turned 11 this month and we are grateful for the extra time we're able to spend with him. I don't think he would be here now if it wasn't for the aqua therapy. Thanks for all that you do!"

-- Diane B.



Good Dog Aquatic links --

Home ( Welcome! • What's Waggin' ) • Services ( Hydrotherapy • Exercise • Massage • Laser ) • About Us • Swim Team ( Success Stories • Photo Album • Videos ) • Directions • Links We Like • Contact Us ( Contact Information • Vet Referral Form )
Copyright © 2009 Good Dog Aquatic