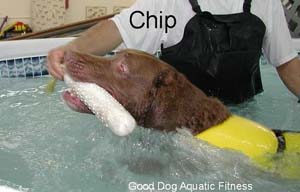 Chip



Chip is a 7 year old Chesapeake Bay Retriever who ruptured his cruciate knee ligament and had a TPLO procedure. With this type of operation the recovery is gradual but Chip came through it very well. What helped was his love of swimming. He came to the right place!

"Chip, Tom, and I want to thank you for the excellent and empathetic care that you provided for Chip after his TPLO surgery. The swimming and the prescribed exercises at home helped Chip's mental health, as well as his physical condition. We don't mean to take your technical abilities for granted, but what most impressed us was your "feeling for the dog" as an individual and your cheerful willingness to work with our previously very active and (always) high drive dog.

If either of our dogs reaches a point where hydrotherapy or physical therapy would be called for, we would happily return to work with you, and I speak highly of Chip's treatment whenever I get the chance."
- Claire M.